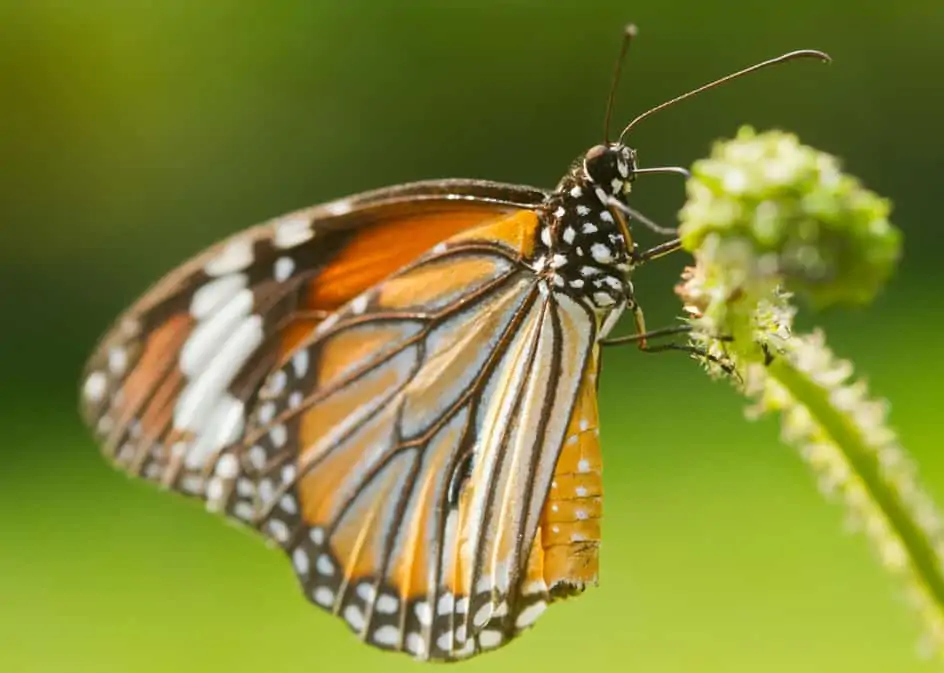 by Catherine Mauron  •  My visit to the butterfly sanctuary years ago was an awesome experience. Lying on the ground, consciousness filled with fluttering wings, eyes drunk with the awesome beauty of the colorful winged beings flying in circles above me, I started to wonder about the butterfly story.
The medicine of the butterfly is rebirth, transformation, rejuvenation. Like a spiritual aspirant, the caterpillar starts its life at the base, preoccupied first by physical needs, eating nutritious leaves, sleeping, and growing. Until, one day, suddenly, something calls from deep within its being, and the caterpillar starts to turn inwards.
It wraps itself in a cocoon, its meditation closet. Then it waits and waits. Finally after much perseverance, deepening its own knowledge about itself, it reaches illumination: "I'm no longer a caterpillar! I am a butterfly!"
The pure Self has revealed its true nature, the veil of the cocoon has become thin, like the veil of meditation, and the light of knowledge starts to pierce through. What an awesome spiritual insight the butterfly can bring to us if we try not only to understand it with the mind, but rather try to feel it deep within us.
Now the butterfly slowly unfolds its wings, observing with awe its transformation, fluttering gently in its new winged attributes, letting the gentle breeze dry them. No more concerned about eating, sleeping, or growing, it starts to fly—just a little bit at first. Soon it understands the full potential of its new abilities, and the open sky, infinite in its beauty, becomes its garden of Eden. "How high and how far can I fly?"
Some butterflies don't fly very far. Others migrate, flying over the ocean, limited only by their own imagination. Just by realizing their true nature they allow it to become manifest. Let us all fill ourselves with butterfly medicine and fly higher and higher to meet the sunrise of our spirits.