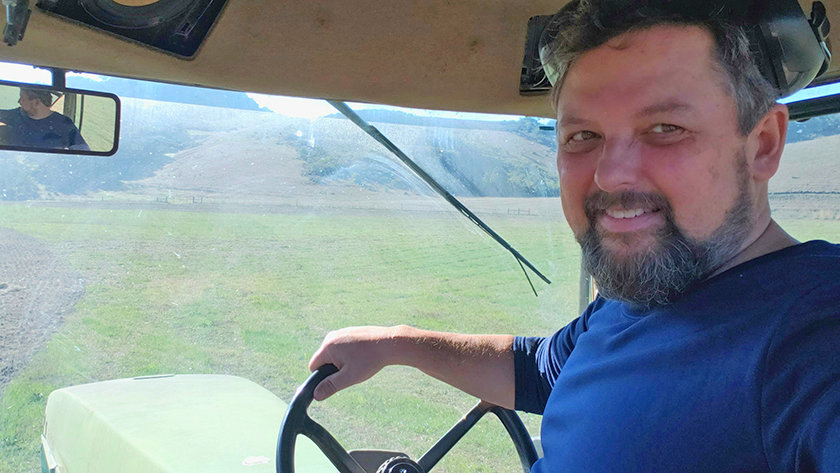 •  by Nathaniel Hansen  •  I recently entered the Sunburst community as an Explorer in a six-month program meant to acquaint its participants with life at Sunburst Sanctuary. Here I share just a few golden nuggets from my experience thus far.
At Sunburst, the best feelings emerge early in one's first weeks. Not only are the residents and fellow explorers warm and welcoming, but one also has access to a rich library of texts from a variety of powerful teachers, daily morning group meditations, and some hours of highly gratifying physical labor on the ranch. In addition, when one first enters the gates of Sunburst, one's blood pressure drops and a sustained sense of calm and peace fills the system. This is important because all of humanity is spiritually weary and in need of soul nourishment.
"How is this possible?" one might ask. 
It is possible because the tight-knit family in and surrounding Sunburst hold one another, the land, and the world in a positive bright light. Through daily meditation and prayer, the Sunburst family practices spreading the spiritual Sun's rays to all souls. This action of channeling light to others is Sunburst's daily, yet potent, gift. This is important because so much darkness is delivered via media to the human heart; Sunburst counters and cures this with light—first, in the individual life, and then in a larger context.
Anyone on the receiving end of this transference of light at Sunburst knows how wonderful the physical, emotional, and spiritual results can be. A consistent daily routine, along with deep sleep on land that is devoid of city noise, releases hormones into the bloodstream that truly nourish one. This experience is rare, and a true gift. 
As one digests the stories and teachings of Sunburst's founders, and those who inspired them, one feels in the company of true spiritual giants. So many of life's daily problems and larger issues are quite easily solved when reflecting on these teachings. And, after a full day's work on the ranch, one may walk over to the well-lit temple for silent personal meditation and prayer. It's a simple, yet deeply fulfilling existence. 
I was recently struggling with a personal issue, and felt an array of difficult emotions and thoughts. One of the long-time residents advised me: "Give these worries up to God, and he will attend to the problem; he can see the macro view." This guidance brought me such relief. I wasn't giving up responsibility as much as taking time to reflect next to God, feeling his (and her) all powerful presence. 
And that's just a taste of what it's like to be here at Sunburst. There are lots of helpful materials on the Sunburst website for those interested. You can also view a spontaneous song that burst out of me while on a tractor in a field here at Sunburst. This song captures all that I've written above…and more! I hope you enjoy it!
Here is the song: https://www.facebook.com/story.php?story_fbid=144422184601460&id=100071010383827