Family Garden & Equine Retreat
Thursday, Apr 6, 2023 – Sunday, Apr 9, 2023
Experience the springtime magic!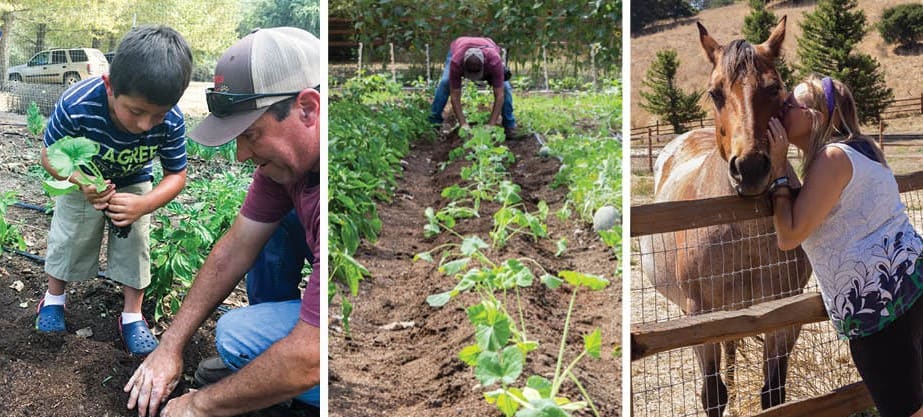 Bring the whole family and immerse yourself in nature's gifts at Sunburst Sanctuary and Organic Farm. This inspiring event brings families together to experience the wonders of Mother Nature. Nestled among 4,000 acres of rolling hills; during your stay, you'll enjoy wildlife, sunshine, gardens, hiking, and meals that include our own organically grown vegetables.
Located on California's Central Coast, 30 miles north of Santa Barbara in the city of Lompoc. Serene location with over 4,000 acres of space filled with gardens, trails, local wildlife and more.
Don't miss out on this very special retreat!
The weekend includes:
• Introduction to gardening
• Fun outdoor activities for children while adults enjoy guided meditation and yoga
• Family equine experience
• Family labyrinth walk
• Delicious vegetarian meals
• Campfires, and more!
Please register by March 29, 2023.
REGISTRATION INFO
You may register online by clicking the Register button below, or register by phone by calling our office at 805-736-6528. All meals and activities are all included for a donation range of $333 to $444 per adult, or $222 to $333 per child; lodging is additional. Sunburst is a non-profit organization run solely on donations; your generosity is appreciated!
Discount if registered by March 15th! Use code EARLYBIRD for a $100 discount per family.
OVERNIGHT ACCOMMODATIONS
Overnight accommodations are available for an additional donation:
Cozy camp cabins – $45/night per cabin – Cabins have heat and electricity; the bathroom is in a separate nearby building. Each cabin has 2 twin beds, with the option of adding an air mattress to accommodate a third person.
Camping – $20/night per tent or vehicle – Bring your own tent or vehicle to camp in our beautiful setting.
Commuting from home or a hotel is also an option.
If your family is larger than 3 people, or you have other lodging needs, we will be glad to work creatively with you to accommodate your family. Please reach out by phone (805.736.6528) or email (contactus@sunburst.org). Once lodging for your family has been arranged with the office, you may pay by credit card, PayPal or Venmo.
COVID-19 PRECAUTIONS will be in place to reduce chance of transmission:
• Anyone with COVID-19 symptoms or a positive diagnosis is asked to stay home and a refund will be issued.
• Wearing of masks is currently optional.
• Masks and hand sanitizer are provided throughout.
• We will follow any new guidelines released by the Santa Barbara County Public Health Department.
QUESTIONS?
Need technical assistance? Prefer to register by phone?
The Sunburst Office staff are happy to help! Give us a call at 805.736.6528 or email contactus@sunburst.org.
Event Category
Family Friendly
Event Location
Sunburst Sanctuary
7200 S Highway One
Lompoc, CA, 93436
Event Fees
Adult donation, pay it further
$ 444.00
Adult donation, pay it forward
$ 383.00
Adult donation, minimum
$ 333.00
Child donation, pay it forward
$ 333.00
Child donation, minimum
$ 222.00
ADD ON cabin, 3 nights (description above)
$ 135.00
ADD ON camping, 3 nights (description above)
$ 60.00
Experiencing form submission glitches? Before selecting # of attendees and donation or Camping addon, please clear out any TOTAL amounts by clicking the RESET button.