by Letha Kiddie  •  Outside my fence blooms a 100 year old rose. Every spring, without fail, it explodes in pink flowers blessing all who walk by. 
The amazing part of this story is that the rose, which was planted at an original homestead on this land, was left alone for many many long years to fend for itself. Many long summers came and went and yet this rose survived. 
It was only after we moved in and were deciding on a perimeter fence that I noticed the very small and withered vine struggling to bloom in spite of no water. 
Although we weren't able to include it within our fence line, the hopeful rose sent its roots into our yard in search of life (water). Within 1 year it had covered a portion of our fence and bloomed joyfully for each year after.
What a wonderful example of being willing to give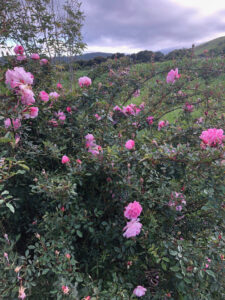 our gift to others, whether small or large, and
consistently show up for others with our love and friendship.
Nature is here to remind us of this every spring.