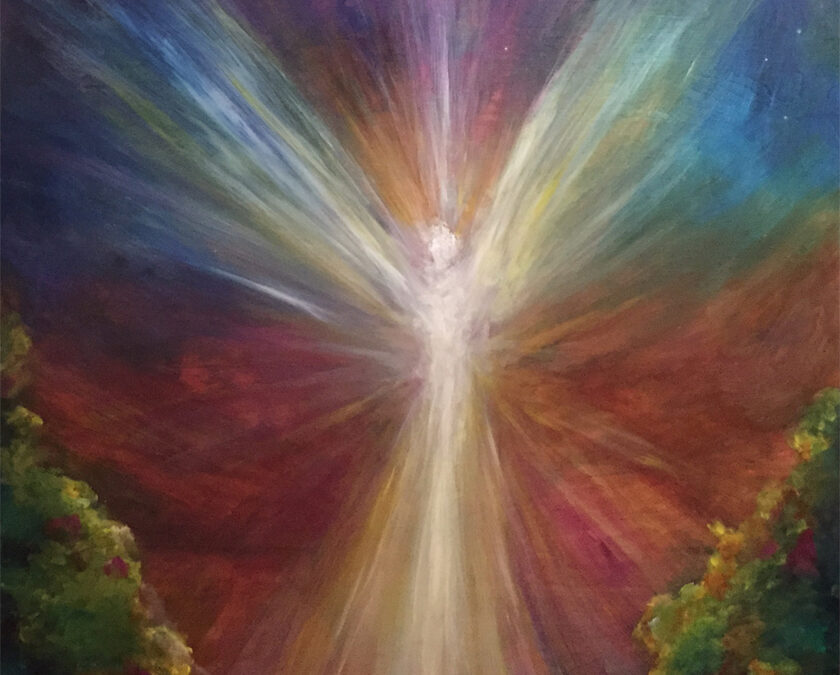 Art & article by Lucinda Kinch  •  Clearing and transmuting karma begins with removing energy blockages from our beings. Effective meditation techniques and prayer nurture this process, allowing us to become more integrated and whole. Our hearts and intuition are activated; we receive clearer guidance from the Divine, and understand our soul's purpose—giving deeper meaning to life.
Meditation techniques offered at Sunburst create a spiral of living transmutation through our dimensional centers, activating openings of light to pour from the depths of our being, healing blockages from prior years and even lifetimes. As like calls to like within our own inner universe, pain, joy or accomplishment travels with us from lifetime to lifetime. The more we transmute inner negativity, the more we are able to absorb positive spiritual energy. Start this karmic transmutation process by learning how to meditate to achieve inner peace and stillness of the body. Accelerate your evolution with the advanced techniques of the ancient Kriya Yoga meditation.
Transmutation of karma is also the source of all true forgiveness. One way to take full responsibility for your path, and reclaim a sense of personal spiritual empowerment, is to deeply reaffirm to the Divine that you are not a victim of any of life's circumstances. With loving willpower, devotion and regular spiritual practice, we will transmute our karma and rise above fear and judgment.
We can become a potent stimulus for the transmutation of the collective consciousness, creating heaven here on earth for all! Since we are undergoing an accelerated evolution in consciousness on earth, there are many turbulent events occurring—yet another reason to hold dear to your heart and habits the blessings of daily meditation and prayer.
You alone can make the choice to overcome fear, to empower your own divine, pure Self. Sit in deep mediation and declare to Source that you are no longer a victim to anything you have experienced or will experience. Realize that all experiences are your teachers; be grateful for these experiences. Ask for courage to do this; it takes a new mind-set to inquire in this way. This practice will help bring understanding and humility, and attract more positive experiences. If you can continue to deepen in virtue, you'll be able to reach deeper levels of fulfillment, gaining courage and satisfaction from life like never before.
We are the bearers of the Light frequencies on this Earth! By transmuting karma within ourselves, we are making great changes in the collective consciousness as well. Our own karmic transmutation is vitally necessary, without exception. Each one of us is key to the process and it is up to us to get the job done. Our essence is Love, not fear. We are loved infinitely and boundlessly, ever-supported by the great Source from which we have never been separate.