By Ischa Lea
Saturday, August 13, 2016 was finally there, charged with anticipation as we prepared for yet another evening of great fun and excitement at Sunburst. Decorating the Lodge, preparing snacks, laying tarp upon the sacred Wheel of Life hill for eager campers created a high-energy environment perfect for those who would stay awake all night looking at the heavens. Celebrations for our customary annual "Star Party" had begun. The Perseid Meteor Shower was to make its grand entrance!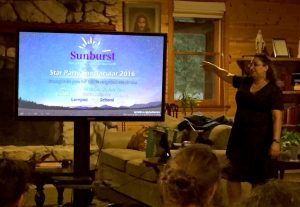 Moksha Badarayan, our renowned Sunburst science teacher, held her large classroom full of eager students, both mature and young, spellbound as she presented a three-part slide show on astronomy that included the latest discoveries and scientific information that kept us riveted in our mental journey through outer space, traversing the Milky Way! How amazing to hear the many theories put forth by science as they try to define and categorize the very subtle differences of what constitutes "life" in outer space – mind-blowing and intriguing propositions that elicited much teacher/audience participation, with the tiny "grown ups" asking the most interesting questions, resulting in the most interesting answers! Needless to say, Moksha's acumen and preparedness placed both her and the kids among the "stars" that night!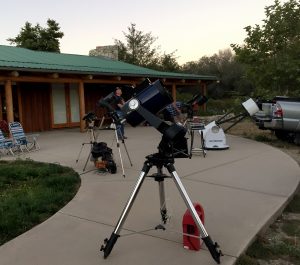 And the evening was just starting! On the patio outside lay mounted three gigantic telescopes, manned by an amazing group of seasoned astronomers, including Sunburst's own Steve Anderson. Not only were we all in awe peering at the rings of Saturn, the moons of several planets, watching the space station whiz by, but an occasional meteorite would streak by too, further building the excitement of the evening as  some made "goop" as a science experiment, drank hot homemade chai, snacked, and continued their periodic visits to the telescopes.
The grand finale marked a short pilgrimage to our Wheel of Life hill that held a 360-degree view and upon which some of would spend all night scanning the heavens, "ooing and aweing" as the heavens presented the ultimate light show – incredible meteors with their comet-like trails streaking across the land! Oh what a night to remember – warm, starlit, fun-filled and joyful. Looking up I could only sum it up in a few words to Moksha camping beside me: "Look what beauty our Heavenly parents have created for our enjoyment."
Thank you, Moksha for making "Star Party 2016" a memorable one!